Summer vacation looks a bit different this year so I'M helping you embrace the STAY-cation!
We're all trying to stay closer to home this year and while that might mean your typical summer vacation was canceled, it doesn't mean there's no way to enjoy the summer. So, I've compiled a list of staycation spots within driving distance of Huntsville/Madison. Stay safe and enjoy!
1. The Retreat at Deer Lick Falls
Nestled in Mount Eagle TN, this vacation spot features a community of rental tiny homes. On-site this community features one of Tennessee's largest water falls. "The recreational outdoor experience has become popular in the past few years and has helped break the mold of what people have traditionally desired in vacation accommodations & everyday living. Smart floor plans, clever utilization of space, built-in storage and trendy design features that are included in temporary recreational living are now at the forefront of everyone's thoughts when considering what type of outdoor lifestyle works best."
2. Joe Wheeler State Park
"Whether you arrive by land or water, there's no mistaking the beauty and serenity of this 2,550-acre resort park. On the shores of Wheeler Lake, the resort features a stunning, waterfront lodge with restaurant and convention facilities, championship 18-hole golf course and clubhouse, full-service marina with permanent and overnight docking slips, modern and primitive camping, lakeside cottages, cozy cabins, and a rustic group lodge."
3. Chatanooga, TN
In addition to the Tennessee Aquarium, Chattanooga has several attractions that the whole family will love. "Chattanooga offers an incredible combination of breathtaking scenic beauty, revitalized riverfront; 13-mile paved Riverwalk scattered with attractions, parks, restaurants and riverboats; outdoor adventures, rich history, numerous accommodations, restaurants to please every palate, thriving arts scene, shopping and many annual events that provide plenty of year-round fun."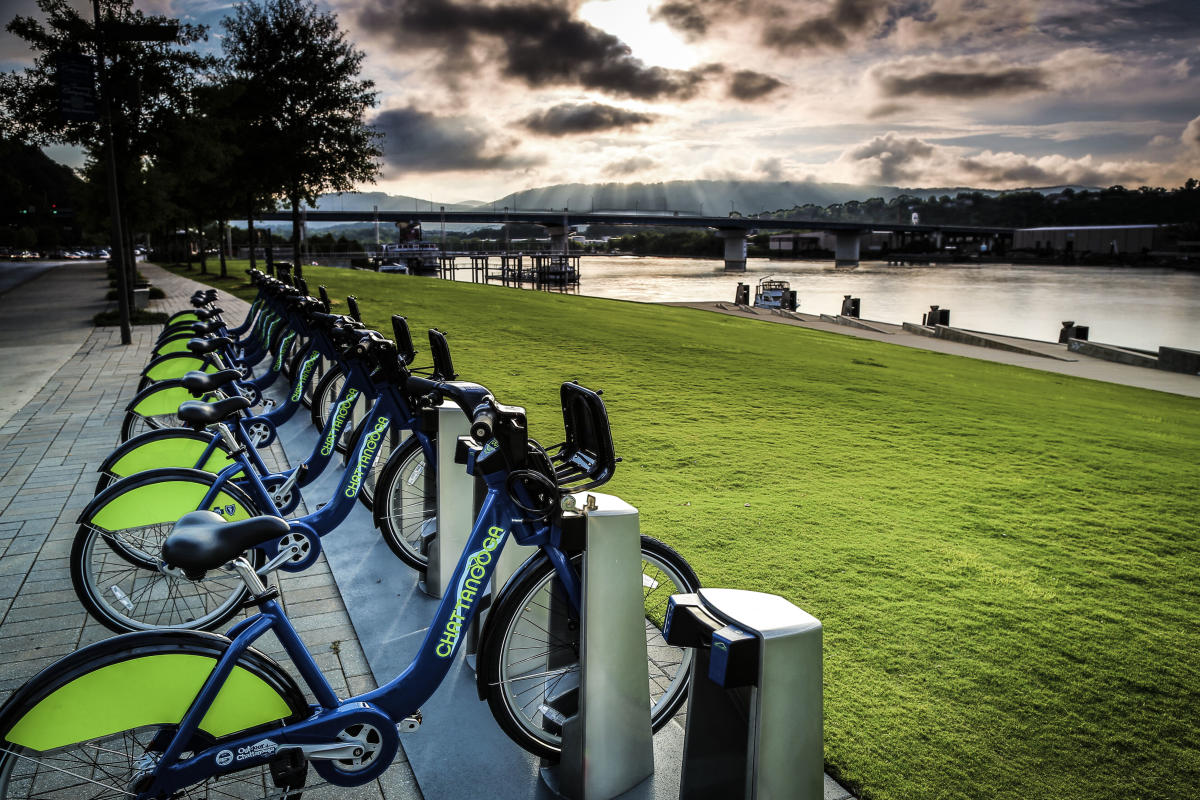 Explore things to do in Chattanooga including outdoor adventure, civil war history, attrac...
4. Ruby Falls
"With its storied history, inspiring scenery, and geological wonders, Ruby Falls has been one of the Southeast's favorite destinations since its discovery in 1928. Exploring this remarkable beauty, located deep inside Lookout Mountain, is a memory shared by generations of visitors to Chattanooga, Tennessee. There is always something new to discover at Ruby Falls!"
5. Lake Guntersville
Lake Guntersville Resort State Park is located along the banks of the Tennessee River in Northeast Alabama. Whether you are looking for a resort style retreat or an outdoor adventure in the park's 6,000 acres of natural woodlands, Lake Guntersville State Park will satisfy all your needs. Among the park's many recreational offerings are an 18-hole championship golf course, the Screaming Eagle Zipline, a beach complex, an outdoor nature center, excellent fishing in Alabama's largest lake, 36 miles of hiking and biking trails, weekly guided hikes, and a day-use area.
What do you have planned for this summer?
If you're like ME, the summer also means moving. If you're planning on selling your home this summer, let's talk.
Click Here